"Happy Hoops" with one of a kind Green Tourmaline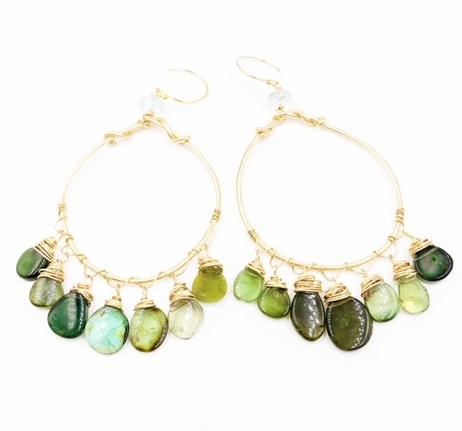 "Happy Hoops" with one of a kind Green Tourmaline
Stones/Materials: These one of a kind beauties are made with gorgeous Green Tourmalines and hand forged hoops. 2 1/2 inches long, 1 1/2 inches wide.
Can also be ordered in Solid 14kt Gold.
There is only one pair available.

Blue Tourmaline: Brings the mind to a zen like, peaceful state. It assists in attuning to the healing energies of the higher dimensions.
It stops overactive thinking so pure awareness can develop.
It helps to let go of emotional cords or patterns from the past, freeing one to create a future that reflects one's spiritual nature. It helps to understand the root cause of emotional trauma or imbalance.
Green Tourmaline: Super potent for self healing especially in regards to healing the heart chakra and thereby the physical heart.
Because the heart is the center of one's being, bringing harmony to that chakra creates a flow of wholesome energy to all parts of the self.
It calms the nervous system and emotions.
It brings an invigorating energy of growth and expansion to the emotional body. It can help one to become less inhibited and more expressive. It helps with letting go of fear of change.
sold out